EcoTec Housing Supplies and installs all sizes and thicknesses of ISO Board
What is Expanded Polystyrene (EPS) foam?
The word Styrofoam is often used to describe expanded polystyrene (EPS) foam; however, 'Styrofoam' is actually a trademarked term for closed-cell extruded polystyrene foam made for thermal insulation and craft applications. EPS foam is the correct term for any form of expanded polystyrene.
Expanded Polystyrene insulation is a lightweight, rigid, closed cell insulation. EPS is available in several compressive strengths to withstand load and back-fill forces. This closed-cell structure provides minimal water absorption and low vapor permanence.
Polystyrene (expanded polystyrene EPS) is available in various sizes and thickness and are light weight and easy to handle. Different densities ranging from low to ultra high are used for specific applications, we can supply and cut to size on order.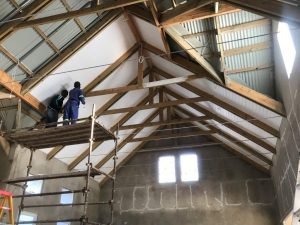 ISO Boards come in the following finishes
ISO Pine
Bevelled Edge
Smooth Finish